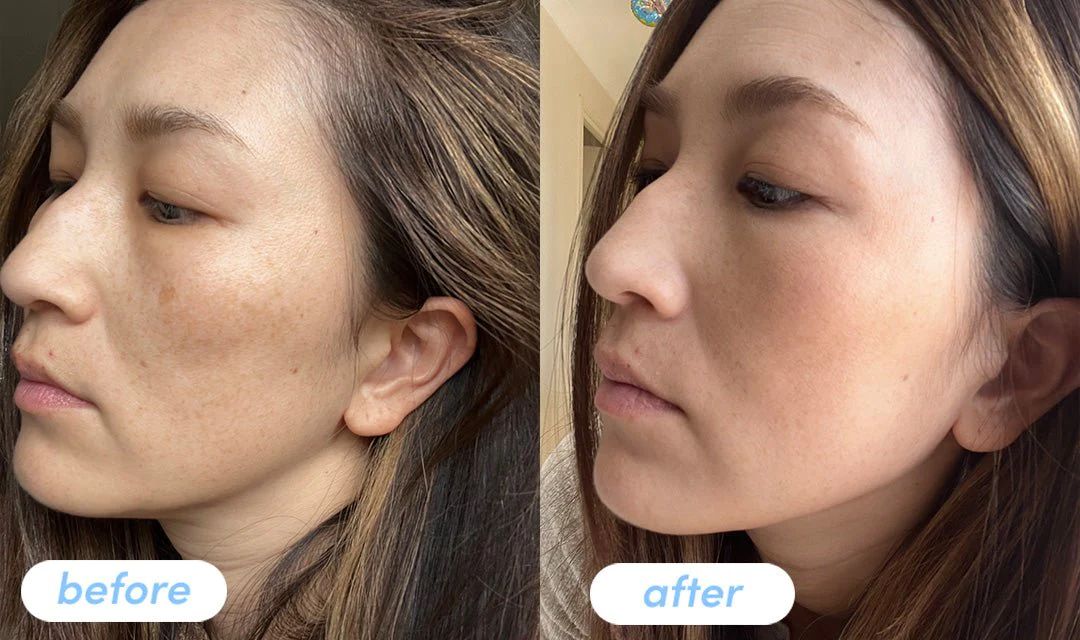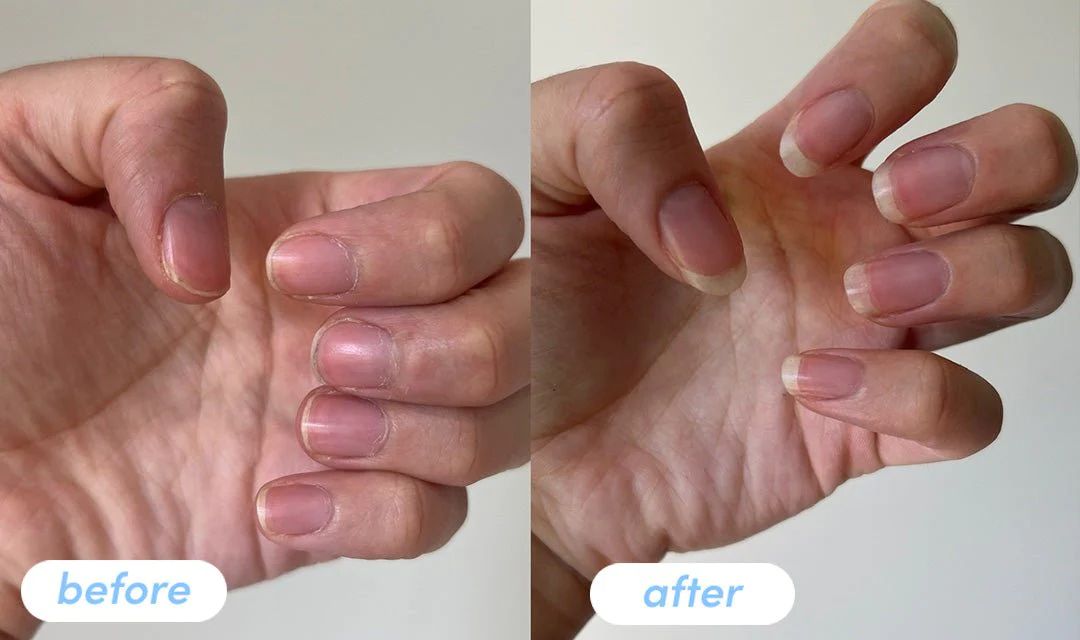 Hiromi
"I can't believe how this has evened my skin tone in such a short amount of time! It truly makes you look 10 years younger and it tastes like lolly water. YUM. "
Hayley S.
"My six with journey with The Collagen Co. This has been such a life saver especially having my son 10 months ago suffering with postpartum hair loss. And my nails have never been so long and strong. So happy with my results!"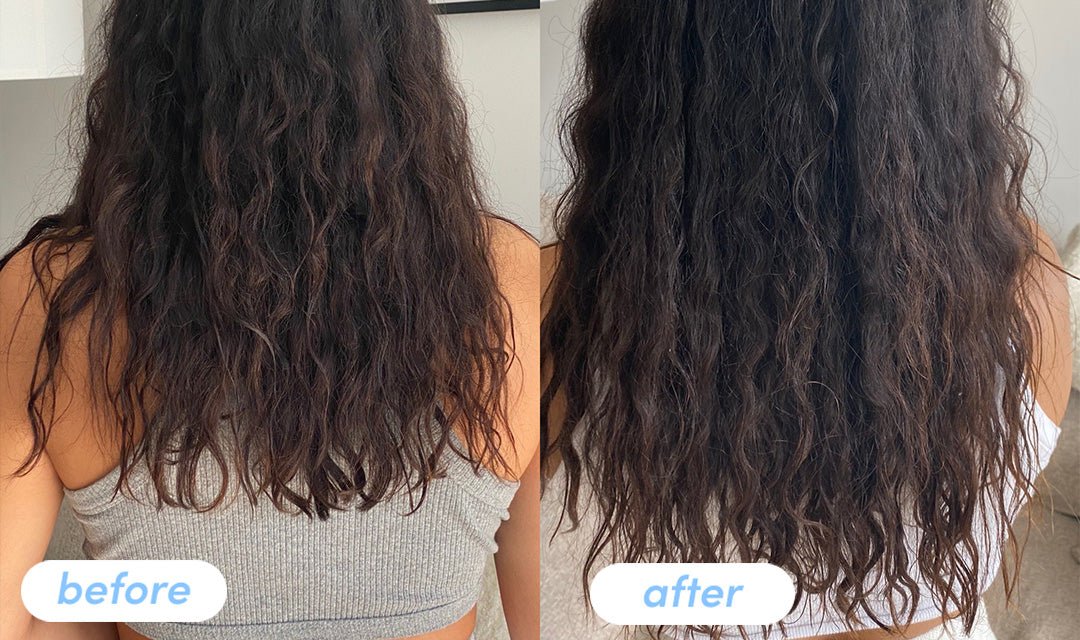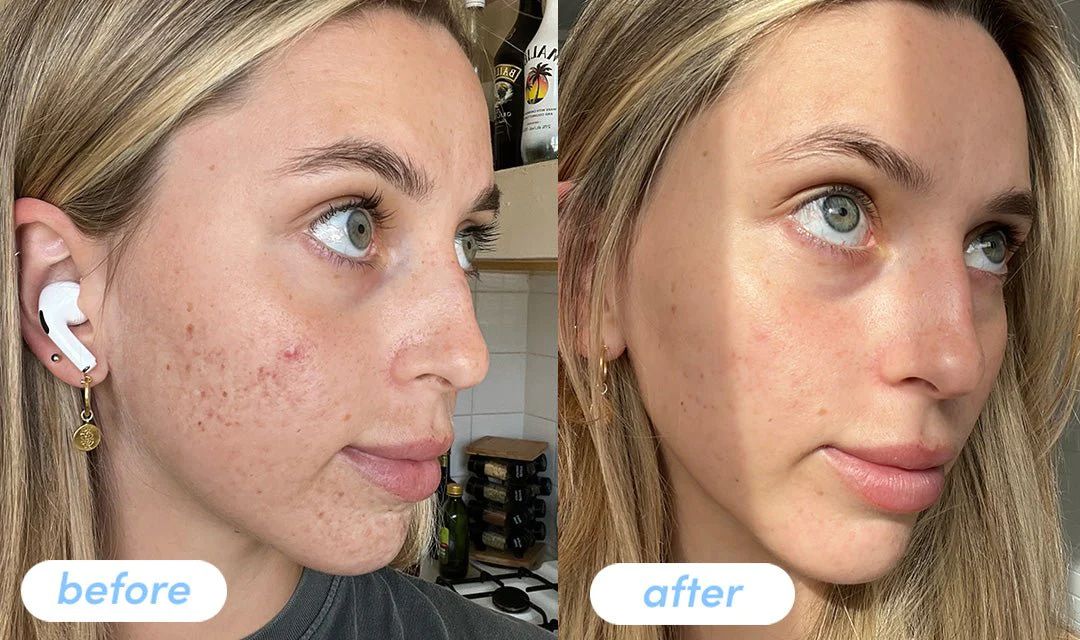 Lisa J.
"I have noticed a MAJOR difference with my hair length. It's grown centimetres within just the 6 weeks. I am currently going through a hair care journey of repairing damaged and dry hair from bleaching in the last few years and started to struggle with hair growth. Since taking The Collagen Co. I cannot believe the difference in such a short amount of time. Their products are so tasty, I get excited to have my daily dosage everyday - It tastes like lolly water, not too sweet and not powdery at all!! Highly highly recommend! I have got all my family members, friends and work colleges hooked!"
Bonnie K.
"I've been using this for the past 2 months and let me tell you MY SKIN CLEARED FROM ACNE!!! It's never felt so hydrated and plump in my life, I haven't changed ANYTHING else in my routine and within weeks I noticed a difference."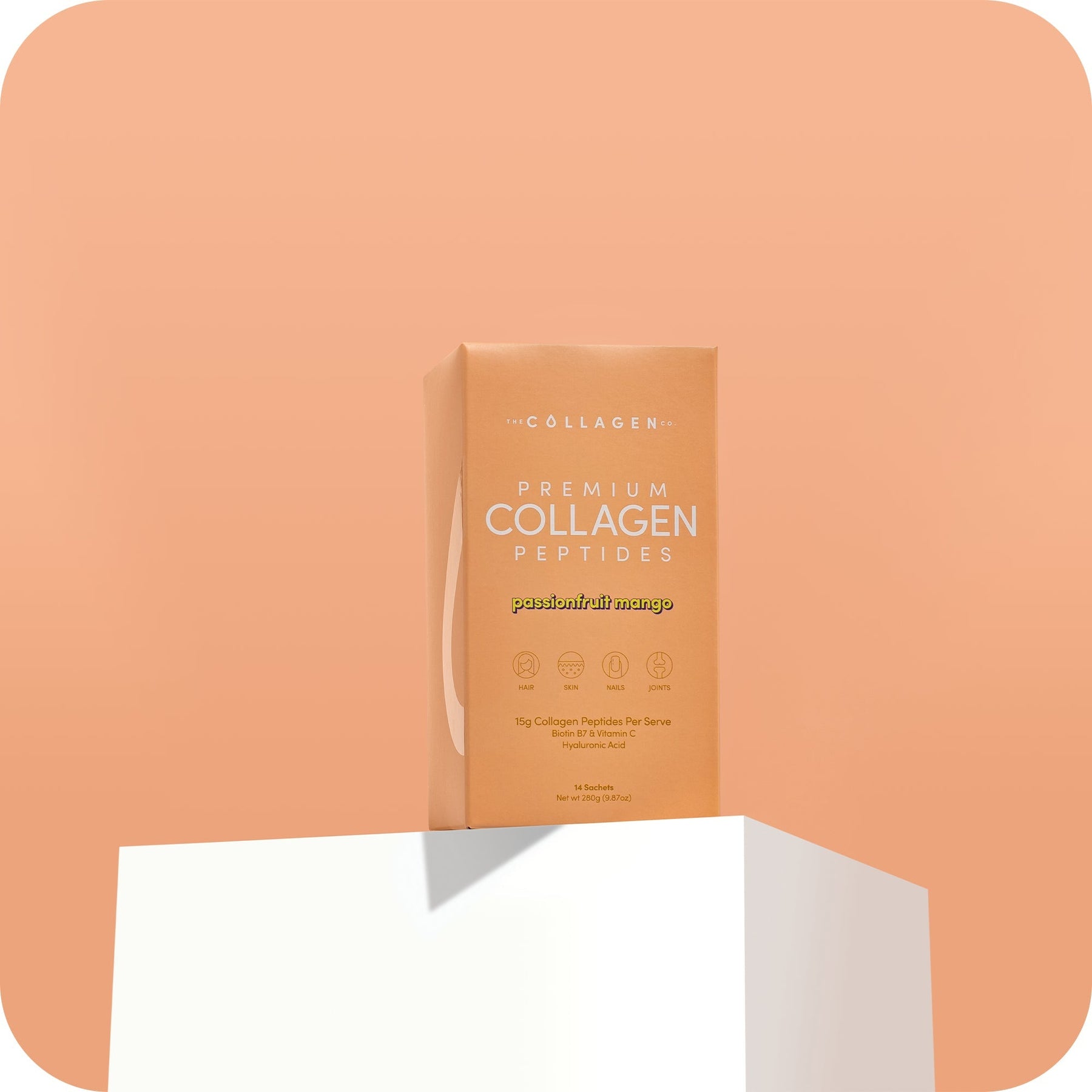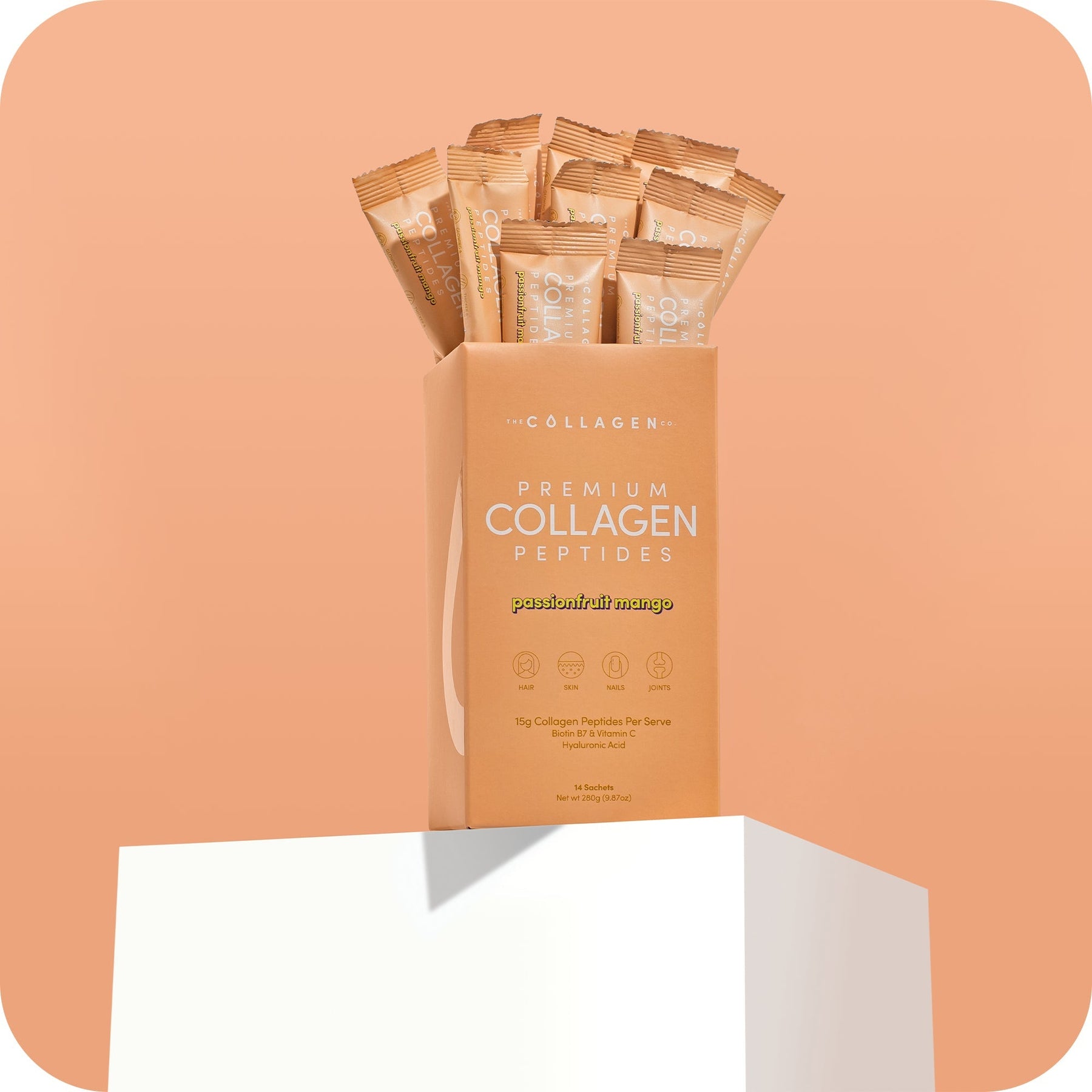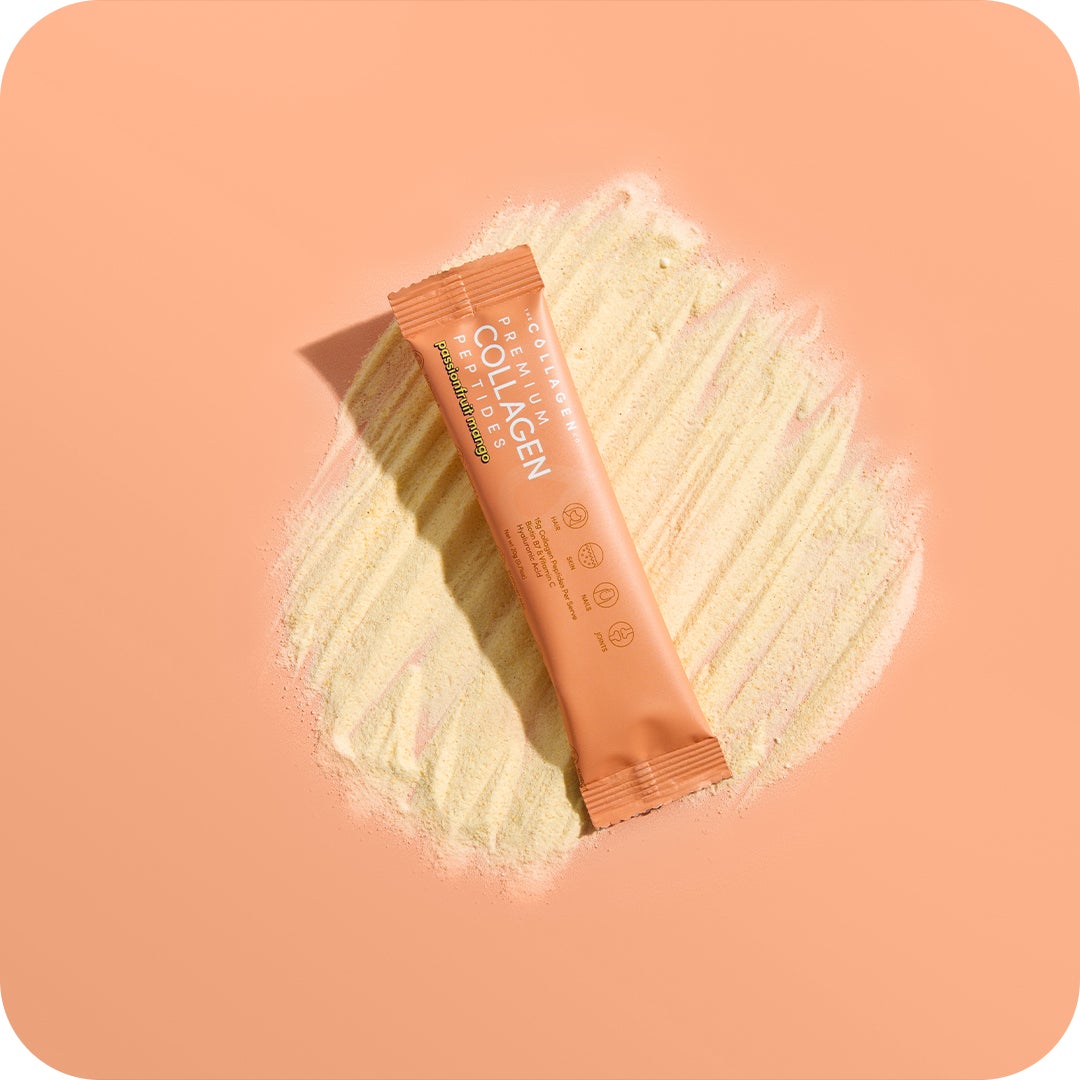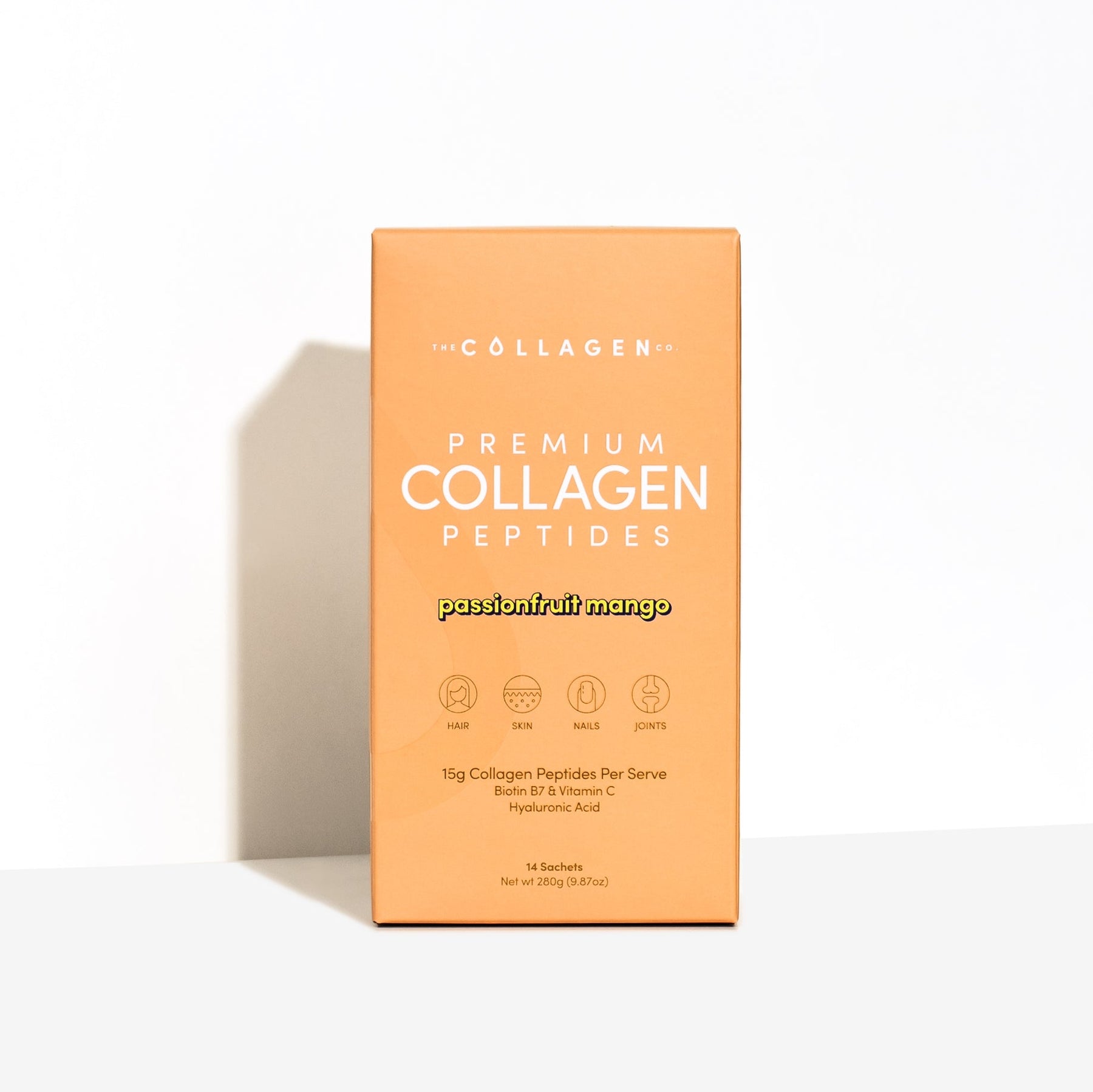 [限時試飲價] 百香果芒果膠原蛋白肽 Passionfruit Mango Collagen Sachets - 280g
Best Before 最佳食用日期: 11/2023
3 types of collagen you need to know
Of the 28 'types' in the human body, Type 1, Type 2, and Type 3 collagens are the most noteworthy. That's because they make up nearly 90% of all collagens in your body.
Type 1 Collagen 1 型膠原蛋白
The most prevalent type of collagen in your body. It's especially abundant in the skin, where it pairs up with elastin to keep your skin resilient, plump, and bouncy.
Also found in bones, tendons, ligaments, and other connective tissues.
您體內最普遍的膠原蛋白類型。 它在皮膚中含量特別豐富,它與彈性蛋白配對,使您的皮膚保持彈性、豐滿和彈性。還存在於骨骼、肌腱、韌帶和其他結締組織中。
Type 2 Collagen 2 型膠原蛋白
Found in your cartilage — i.e., the cushy padding that prevents 2 adjoining bones, like in your elbow, from grinding against each other.
You can also find Type 2 collagen in your windpipe, voice box, air passages in the lungs, and ears.
存在於您的軟骨中——即防止 2 塊相鄰骨骼(如肘部)相互摩擦的柔軟襯墊。您還可以在氣管、聲帶、肺部和耳朵中的空氣通道中找到 2 型膠原蛋白。
Type 3 Collagen 3 型膠原蛋白
BFFs with Type 1 collagen. That means you'd spot Type 3 anywhere you'd see Type 1 (e.g., your skin, ligaments, blood vessels, and other connective tissues).
It may play a crucial role in the body's production of Type 1 collagen.
具有 1 型膠原蛋白的 BFF。 這意味著您會在任何可以看到 1 型膠原蛋白的地方發現 3 型膠原蛋白(例如,您的皮膚、韌帶、血管和其他結締組織)。它可能在人體產生 1 型膠原蛋白中起著至關重要的作用。
Collagen makes up about one-third of the protein in our body. It's what keeps our skin supple, hair shiny, nails strong and joints moving freely. In fact, up to 75% of our skin is made up of collagen – it's a major component of the integrity of the outer extracellular matrix (aka what gives you smooth, healthy and glowing skin).
Collagen can also be found in bones, teeth, tendons, blood vessels, cartilage and even in our digestive tract. It's a pretty amazing protein and essential to keeping us strong and healthy.
膠原蛋白約占我們體內蛋白質的三分之一。 它使我們的皮膚保持柔軟、頭髮閃亮、指甲強壯並且關節活動自如。 事實上,我們高達 75% 的皮膚是由膠原蛋白組成的——它是外部細胞外基質完整性的主要成分(也就是讓您光滑、健康和發光的皮膚)。膠原蛋白也存在於骨骼、牙齒中 、肌腱、血管、軟骨,甚至在我們的消化道中。 它是一種非常神奇的蛋白質,對保持我們的強壯和健康至關重要。
Hydrolyzed Collagen Peptides are "normal" collagen proteins that have been broken down into shorter chains of amino acids, making them more easily absorbed by the body.
水解膠原蛋白肽是"正常"膠原蛋白,已被分解成較短的氨基酸鏈,使它們更容易被人體吸收。
Yes, our collagen is perfectly safe for both pregnant and nursing mothers. If you do have any specific individual concerns we suggest seeking the advice of your local general practitioner.
是的,我們的膠原蛋白對孕婦和哺乳期母親都絕對安全。 如果您確實有任何具體的個人問題,我們建議您尋求當地全科醫生的建議。
No, they do not. The Collagen Co. only uses natural colours, flavours and sweeteners.
不,他們沒有。 The Collagen Co. 僅使用天然色素、香料和甜味劑。